Laptop Screen Repair

Bournemouth, Poole & Christchurch
Laptop screen replacement for: cracked, broken, smashed, dead pixels, damaged or bleeding (black backgrounds – ink liquid leaking out
Lenovo • Samsung • HP • Dell • Microsoft Surface • Acer • ASUS • MSI • Alienware • Dynabook • Toshiba • PCSpecialist • Huawei • Razer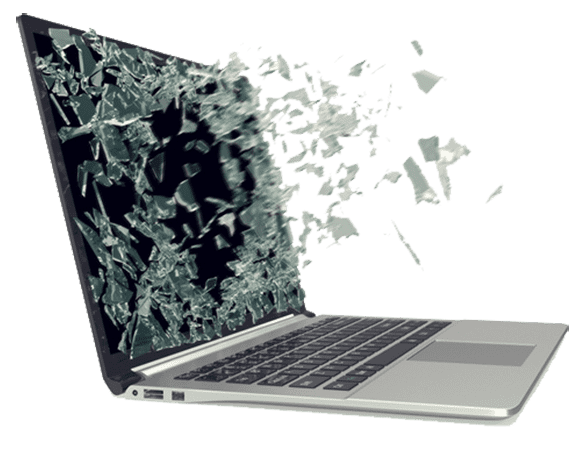 Fixed Fee for most laptops • Quality, branded IPS displays • 1 Year Guarantee • 3 Hour Turnaround in most cases
No bookings/appointments are required, please bring in your device anytime during opening hours.
| | |
| --- | --- |
| Screen sizes 13.3″, 14″, 14.1″ and 15.4″ | £89 |
| Screen size 15.6″ HD | £99 |
| Screen size 15.6″ slim (350MM type) | £129 |
| Screen sizes 17″ and 17.1 inch | £139 |
| Touchscreen Replacement – Please contact for quote, pricing varies depending on device | £150+ |
| We do not fix monitors/TV's – where the screen is cracked, a new screen is not available to buy separately in 80% of cases. In the rare occasion where we can find a screen, the screens cost at least 50% more than a new monitor. | |
Repair, don't replace.
A quality and sustainable, yet cost-effective repair.

Almost all laptops (with the exception of touchscreen models) use universal panels that are not unique to individual manufacturers. Screens are manufactured by a number of companies, including Sharp, LG, BOE, Samsung, Innolux and AU Optronics.
In most cases therefore, this means we may stock a compatible display in-store, allowing us to repair your screen the same day. This also means we do not necessarily need any model numbers, you can simply walk in-store anytime during opening hours, and have your laptop repaired. 
If you would like to be sure, you are welcome to call or email our team with your laptop details to confirm.
The Approved Repair Company

Fast, communicative with really competitive prices (full service including pickup and return delivery to the customer) who replaced the screen on my MacBook Pro. A five-star company worth recommending which I highly recommend.
After a quick WhatsApp exchange, my personal MacBook was collected, repaired and returned far quicker than expected. And at half the quoted cost from the original manufacturer. Well packaged for safe return. Ferrero Rocher are a nice touch! Works perfectly. Would highly recommend and use again if needed. Thanks.
Great Job to repair my 2021 Mac Pro A2442 Screen at less than half the price of an official apple repair (£379) I looked around for numerous prices and this was the cheapest I could find. Easy service to use - Prepaid Royal Mail next day delivery provided and the repair was completed within 48 hours of sending off and ready to be retruned via next day delivery. Highly reccommend! Many thanks for your service!
Excellent and prompt service to recover data from a failed hard drive. Options and expectations fully explained. Happily data recovered successfully. Recommended.
After a long trouble free period with my desktop - I urgently needed help as my computer became totally unreliable with an intermittent fault. Mohamed and his team were awesome. Ready to help immediately they worked tirelessly and diligently to resolve the problem. In the meantime they made sure I was kept fully up to date with progress using WhatsApp and messages. Adam was particularly helpful and took time to explain several queries with great patience. The computer was sorted out at a very reasonable charge and I am up and running again. Excellent company with old fashioned service and attention to customer satisfaction. These chaps know their stuff!
Absolutely fantastic service from BITS. Reliable and honest.
I've used these guys twice now. Highly reccomend. They're always on time and do an amazing job. I'll be coming back in the future for more tune-ups & fixes. Thanks
Straight to the point, no waffle and faaaaaaaaast. 100% Recommended 👌
Sent these guys a MacBook Pro after Apple quoted £700 to replace the screen - no chance when I can do it here for £400. Not only was it cheaper, but the customer service is excellent; the customer service was far and beyond, exactly as you'd expect from a local business. Thank you guys.
Excellent experience with a new battery for my Mac today. Email communication, quote, work everything quick and efficient. Not super local to me but was recommended by a family member and I'd definitely use and recommend again.
Under the microscope...
see what we see!
Alongside are some photos of our latest jobs - all of which were successfully repaired.
Possessing tools like a microscope and thermal camera allow us to conduct repairs to a standard that many shops are not able to, and in the case of Apple Macs - allows us to repair your existing logic board, saving you hundreds of pounds as well as your precious data.