Custom Built PC Bournemouth

Full Configuration, Assembly and Testing
Bournemouth, Poole & Christchurch
Perfect for enthusiasts that want full control over their hardware
Custom PCs offer… Better performance & thermals • Far higher quality of hardware • Upgradability • Value for money • Increased flexibility • Exactly the features you need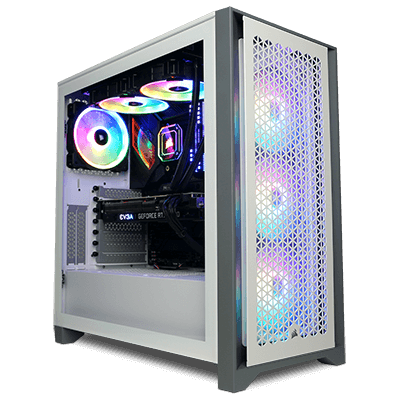 Always wanted a high spec computer but don't want to risk DIYing it? 
Tasks to be carried out during your build include the following:
The most important step in assembling a custom PC is selecting the correct parts, that provide an adequate level of performance for your requirements, whilst also ensuring they are perfectly matched and not bottlenecked. You are welcome to either supply your own parts, and have our technicians check your build, or provide us with your budget, and have us configure your machine.
All PCs are assembled in an anti-static workplace by experienced technicians, to ensure no parts are damaged during the process. In the past, we have seen people build PCs, and then bend CPU pins, damage motherboard lines with tools, damage components through ESD and more. Our technicians have years of knowledge and expertise in working on computers, so you can be assured your parts will be well taken care of. Assembly will include proper fan configuration and thermal paste application to ensure the best possible thermals on your new build.
We will install the OS of your choice, whether that be Windows 10/11, or Linux, and install all appropriate drivers along with the system, to ensure all your shiny new hardware is working to its full potential.
When building a custom PC, you need to ensure your machine is stable, and won't crash at critical moments, such as online games, whilst rendering videos or working on a university assignment. After your build is assembled, our technicians will stress test all aspects of the hardware to ensure all components are receiving an adequate power supply, and that no overheating occurs. Part of this will include the calibration of fan curves and selecting the best possible spots for fans to ensure good air circulation.
Our fixed fee includes:
All our repairs fall within fixed pricing bands, which also include:
VAT
1 Year Guarantee
Diagnostics, Assessment & Repair
£89 Fixed Labour Fee
Bring your own parts, or purchase a fully built, specced PC based on your requirements
Customers are more than welcome to bring their own parts, or purchase their own parts after recommendations from our team. 
PCs are turned around within 24 hours in most cases.
Under the microscope...
see what we see!
Alongside are some photos of our latest jobs - all of which were successfully repaired.
Possessing tools like a microscope and thermal camera allow us to conduct repairs to a standard that many shops are not able to, and in the case of Apple Macs - allows us to repair your existing logic board, saving you hundreds of pounds as well as your precious data.
The Approved Repair Company

Fast, communicative with really competitive prices (full service including pickup and return delivery to the customer) who replaced the screen on my MacBook Pro. A five-star company worth recommending which I highly recommend.
After a quick WhatsApp exchange, my personal MacBook was collected, repaired and returned far quicker than expected. And at half the quoted cost from the original manufacturer. Well packaged for safe return. Ferrero Rocher are a nice touch! Works perfectly. Would highly recommend and use again if needed. Thanks.
Great Job to repair my 2021 Mac Pro A2442 Screen at less than half the price of an official apple repair (£379) I looked around for numerous prices and this was the cheapest I could find. Easy service to use - Prepaid Royal Mail next day delivery provided and the repair was completed within 48 hours of sending off and ready to be retruned via next day delivery. Highly reccommend! Many thanks for your service!
Excellent and prompt service to recover data from a failed hard drive. Options and expectations fully explained. Happily data recovered successfully. Recommended.
After a long trouble free period with my desktop - I urgently needed help as my computer became totally unreliable with an intermittent fault. Mohamed and his team were awesome. Ready to help immediately they worked tirelessly and diligently to resolve the problem. In the meantime they made sure I was kept fully up to date with progress using WhatsApp and messages. Adam was particularly helpful and took time to explain several queries with great patience. The computer was sorted out at a very reasonable charge and I am up and running again. Excellent company with old fashioned service and attention to customer satisfaction. These chaps know their stuff!
Absolutely fantastic service from BITS. Reliable and honest.
I've used these guys twice now. Highly reccomend. They're always on time and do an amazing job. I'll be coming back in the future for more tune-ups & fixes. Thanks
Straight to the point, no waffle and faaaaaaaaast. 100% Recommended 👌
Sent these guys a MacBook Pro after Apple quoted £700 to replace the screen - no chance when I can do it here for £400. Not only was it cheaper, but the customer service is excellent; the customer service was far and beyond, exactly as you'd expect from a local business. Thank you guys.
Excellent experience with a new battery for my Mac today. Email communication, quote, work everything quick and efficient. Not super local to me but was recommended by a family member and I'd definitely use and recommend again.